Work From Home Easier In New York With These Home Office Improvements
For some, working from home has become the new normal -- and brings some unique challenges.
Whether you're a work-from-home pro or want to make an at-home workspace on the fly, the concept of using your everyday home doesn't have to mean using your dining room table. The solution to an effective home workspace is identifying items that will make life simpler for your daily grind. And this place should also be aesthetically pleasing since you have to live here, too.
From ergonomic desks to Polywood plantation shutters, here are five easy office ideas that make work from home easier.
Your Home Office Should Be A Separate Space
While cozying up on the couch and opening the laptop may look nice initially, not splitting up "home mode" from "work mode" can feel detrimental to your psyche.
If you don't yet, create a workspace in your home. This place should be work-first, putting non-work activities for the rest of the house. This should help you keep away from interruptions. You don't necessarily need an oversized desk with a dedicated outside entrance, but you should at least try to have a corner table and chair that's only for work.
Have a small area in the family room that would double as a work center? Create a private office by installing an attractive, elegant sliding barn door or panel track as a partition.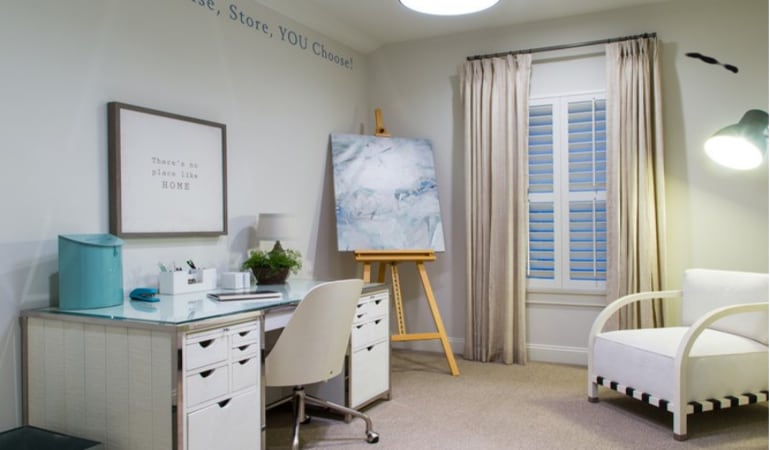 Use A Work Space That Fits With Your Things
When the majority of your day is spent sitting down, you need a workspace that gives ergonomic support while catering to your your desired spatial needs. And that means setting up the perfect work surface.
However, beware: stay away from a "that will do" desk set-up. A decorative table that disguises as your desk during business hours will only invite frustration. You should use a surface that conforms to your workplace rituals. If you only use a laptop then a smaller desk or work-only table is fine. But if you're stacking books and papers, or prefer a two-screen PC setup, you want a bigger surface.
If you rather not buy a standard desk, build one from scratch. An old door or MDF board on top of filing cabinets can become a versatile work surface. Once you pick the right work surface, the easier work from home can seem in New York.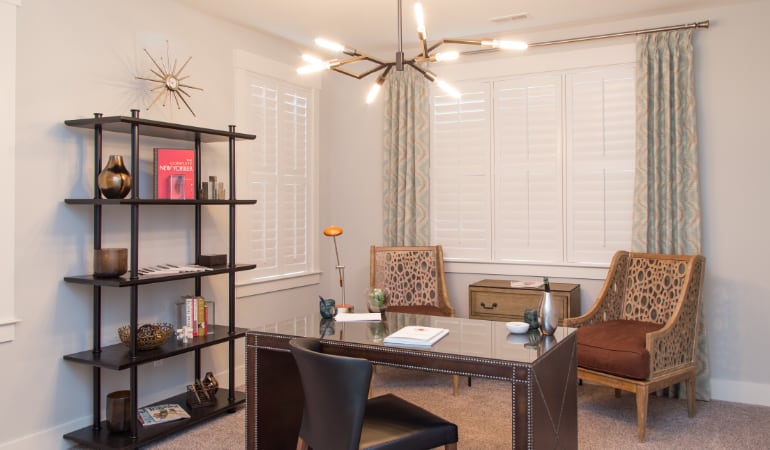 Balance Natural Light When You Use The Right Window Treatments
It's no surprise that adequate lighting can make or break your daily video call. Too little light and you're bathed in shadow, but an overexposure to sun glare, and you're flushed out. The amount of natural light can also be the difference between a good day, and a day that finds you making many visits to the soda fridge.
To make work at home easier, you should install a window covering that can direct light. Plantation shutters, for example, have large louvers that can be adjusted so that your workspace always has the correct level of outside light without any glare. They can block outside noise, like cars or playing kids. And your chosen interior shutters are crafted from faux wood, they can also help with energy-efficiency.
Luckily, plantation shutters are a wonderful addition to your home office, not to mention they are a snap to dust and operate.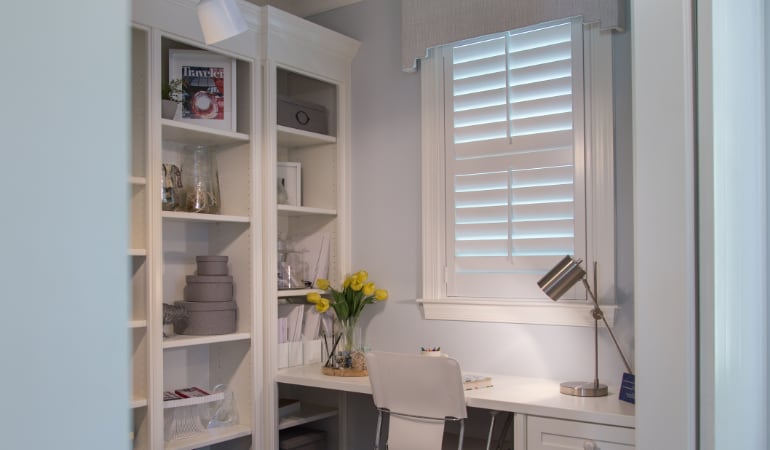 Change Out Your Seat From That Kitchen Chair
Once you have a few days in your new and improved work space, you start to realize that working from that hard folding chair just isn't working.
Try an office chair that rolls to make your life easier, or upgrade your seating with a little extra back support if you need to have it last until you decide on your next chair. Or, you can opt for a standing desk, and then you don't need a seat at all.
Don't Be Afraid To Experiment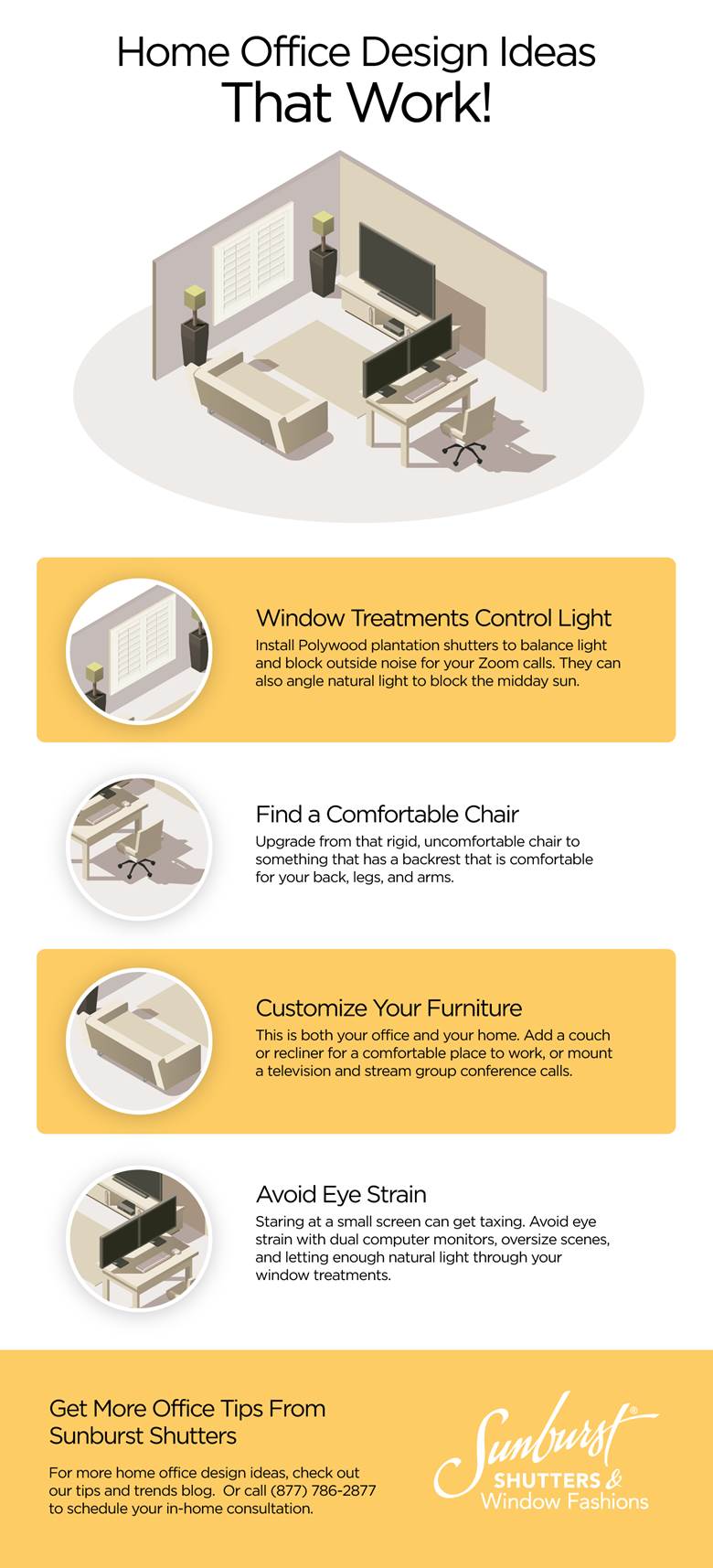 One of the benefits of telecommuting is that you are able to arrange your area outside the traditional corporate floor plan. But sometimes settling on the ideal order takes time and some experimentation. That means thinking from beyond the cube.
Always question yourself about what works and what doesn't. You might need a couple monitors instead of an underpowered 15-inch monitor. Or why not try three? Or you might find you perform best with a keyboard and two larger monitors hung on the wall. Standing desks, sound system speakers, and overstuffed couches -- it's all about you. And if that doesn't work out, you can switch it all without having to go through an expense report.
Start your Home Office Project in New York with Sunburst Shutters
Are you ready to take the first step in transforming your work area? Just call
631-246-3930
or complete the form below to schedule an in-home consultation. The seasoned experts at Sunburst Shutters New York will help you find the perfect window treatments that should bring your work space to the next level and make work at home easier in New York.