What Window Treatments To Choose For Your New York Custom-built Home
When you're building a custom home in New York, you want to get every detail right, including the window treatments. There are many reasons why plantation shutters are such popular picks in window treatments for custom homes in New York. Their unique design and beauty complement all decor types and provide you complete command over the sun's light. With this in mind you are able to quickly fashion a welcoming environment and illuminate the enticing features of your custom home.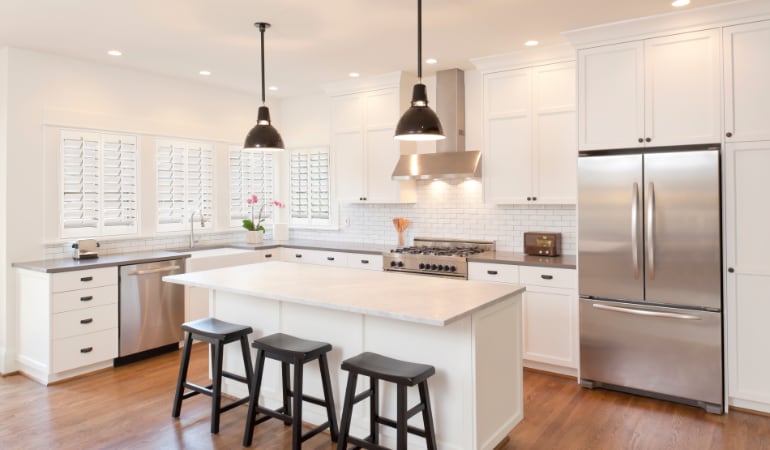 In What Manner Do Plantation Shutters Enhance a Custom Home?
If your goal is to draw attention to your custom home, consider window treatments that other homeowners in New York incorporate to enhance their homes. Plantation shutters synchronize seamlessly with homes of various styles. They are a focal point and catch the gaze of anyone who may be more familiar with out-of-style metal blinds and curtains. Their practical but sophisticated construction requires no extra dressing to create a stunning appearance and ensure a positive influence on guests.
Plantation shutters are a smart finish for a custom-built home. Their crisp lines and classic colors incorporate easily with any style of home, so you are able to advise the home builder to put them in any room and not have to worry how they will look in your furnished home.
Fully customizable, this window treatment works for specialty windows and more standard sizes, so you can use them on every window and save yourself the hassle of picking different window treatments for each room. You benefit from having a task lifted from your plate during the busy home design phase!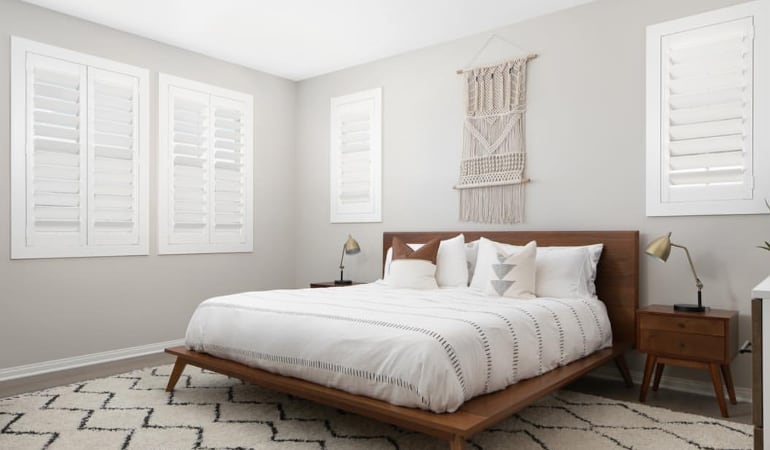 How Do Plantation Shutters Make It Easy To Direct Sunlight?
Everyone loves the feel of a well-lit home. While you'll no doubt choose beautiful light fixtures to illuminate your custom home, the sun's rays have special characteristics that make a space appear bigger or alter its mood.
Despite its many benefits, the sun's light is constantly changing. As the sun moves throughout the day, the amount of sunlight entering your new home changes, and you have to alter your window treatments to direct the sunlight appropriately. When trying to find window treatments for custom homes in New York, homeowners prefer composite Polywood® and natural wood plantation shutters that help them control the amount of natural light a room receives.
Gently move the tilt wand to change the angle of the louvers in the daytime when there is an abundance of light to allow an area to have a more comfortable feel and increase the opening to brighten things up when the sun is on the other side of the house. You are even able to swing back the shutters at the hinges for full sunlight to create a bright, airy look and shut them again for a snug, closer-knit feeling.
Modifying the position of the slats also gives you the chance to shift the sun's rays. When you tilt the louvers in either direction, you can cast light all areas to make your space feel larger. You have the ability to filter excessive glare away from people's eyes and flat surfaces that reflect without shutting the slats and eliminating the light altogether. With a single touch, you can control the quantity and the direction of sunlight that shines in any room for the comfort of your visitors.
Select The Right Window Treatments For Your New York Custom Home
Showcase your home in the best way possible with the eye-catching style of plantation shutters by Sunburst Shutters. We feature time-tested window treatments that New York residents love for their custom-built homes. Contact us at 631-246-3930 or submit the form on this page to get started with a no cost in-home design consultation.