What Are The Leading Window Treatments For Over The Kitchen Sink In New York?
When you're shopping for window treatments, don't overlook the kitchen -- starting with the window above the sink. If you harbor reservations about water or food splatters ruining a window treatment over the kitchen sink in your New York home, make the smart choice with Polywood® plantation shutters. These products add appeal to any space but are noted for withstanding the moisture and heat of the kitchen.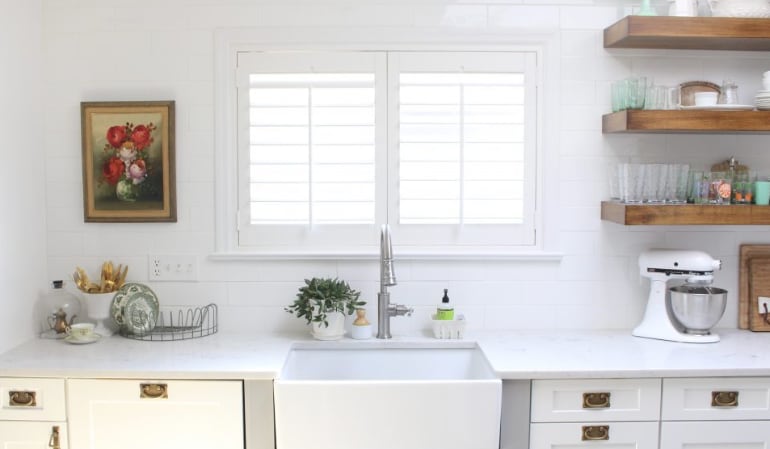 Dazzling Faux-Wood Shutters Bring Appeal To Any New York Kitchen
Window treatments over your kitchen sink in New York need to be practical and long-lasting. But you won't have to forego beauty when you hang popular, faux-wood plantation shutters.
This timeless option mixes seamlessly with any design scheme. They can be found in several shades of white that harmonize well with kitchen appliances and finishes, and their solid panels of adjustable louvers create texture that contrasts beautifully with the flatter, more uniform aspects of your kitchen. Polywood materials convey subtle appeal to both extravagant and simplistic kitchens and every one between.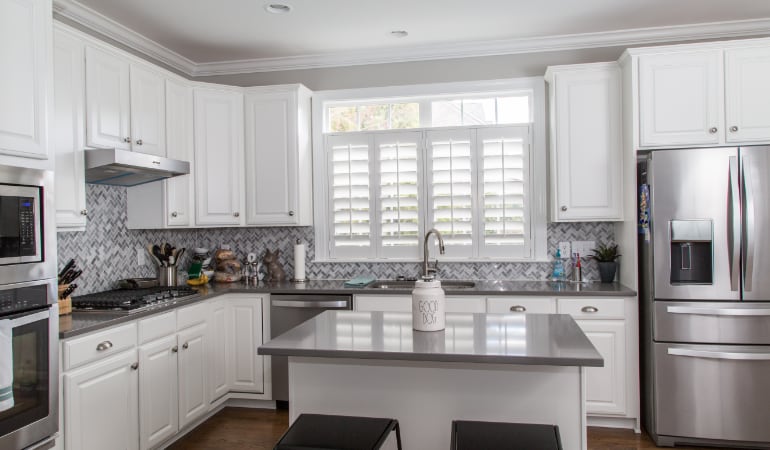 Polywood Shutters Stand Up To Harsh Conditions
How often do you see water droplets on your kitchen window when you're boiling water or washing dishes? That same condensation attaches to window treatments over your New York kitchen sink, where it may impact the integrity of traditional cloth curtains or shades after a period of time.
You will find that Polywood plantation shutters are a better choice. The faux-wood material and resilient coating resist damage from warm and wet conditions. These popular window treatments are totally watertight. They will never warp, chip, or split from the humidity in your kitchen.
The sun and changing seasons will have no influence over your Polywood shutters. When covering the window over your sink, your shutters are faced with old air and powerful UV rays. These exceptional window coverings won't shrink and expand from the cold outside and heat inside, nor will they fade in sunlight.
Interior Shutters Welcome Light Into Your Kitchen
Lighting is important in your New York kitchen. It would be silly to harm yourself because you're struggling to see what you're doing! Polywood shutters provide the amount of light you want and are a cinch to adjust. Just swing open the panels or use the tilt rod to move the louvers up and down. There's no need to get frustrated with twisted, hard-to-adjust cords or a pull bar that's too high to reach when you need more illumination.
For the brightest light, swing the panels open wide. If the sun's rays are a bit much, swing the panels back shut and move the tilt bar to your desired light settings. If needed, alter the slat position to reduce glare off counters and flat surfaces within your space. If you want to avoid curious observers seeing into your home after dark, close everything tightly for the solitude you desire.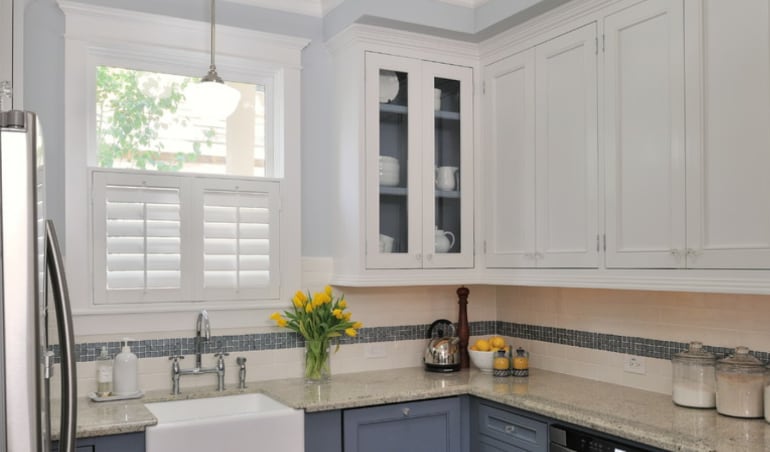 Polywood Faux Wood Shutters Clean Up Easily
Kitchens can be dirty with an abundance of sauce splatters, grease, and dirt. Any window treatment over your New York kitchen sink must be easy to clean. With this in mind Polywood window treatments are perfect on a kitchen window. The sturdy, smooth construction doesn't stain or hold odors like cloth alternatives. You just need to quickly wipe them with your lightly dampened rag, and they look good as new.
You don't have to squander precious time awkwardly moving your duster through the slats as you would with traditional metal blinds. The well-made louvers are durable, and you can choose from different sizes, including wider ones that provide ample space for you to move around.
Find Window Treatments For Over Your Kitchen Sink In New York At Sunburst Shutters New York
Sunburst Shutters New York has the right window treatment for every window -- including the one over your kitchen sink. Talk to our consultants about the goals you have for your project, and we'll customize a plan for your home. Call us today at 631-246-3930 or fill out the form below to schedule a free in-home consultation.