The Top Nursery Window Treatment Ideas In New York
As an expecting parent in New York, you want to make sure every element of your little one's nursery just right -- including the window treatments. But in advance of selecting any window treatment, keep in mind that versatility and safety are important. Newborns may bring down drapes or get entangled in corded blinds. These options won't stop light and drafting for good sleep either. Alternatively, choose child-friendly, energy-efficient plantation shutters or cellular shades as window treatments for your nursery in New York.
Louvered Shutters Will Keep Your Nursery Cozy, Safe, And Stylish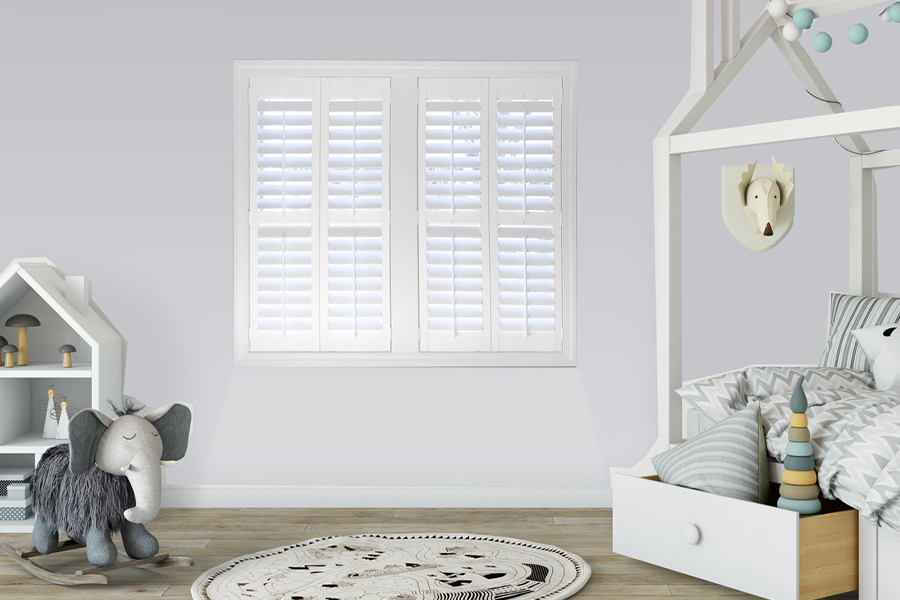 Interior shutters might not be first on your list for nursery window treatment ideas in New York, but they should be! These superior window treatments look stunning in any room. Their sturdy panels provide an eye-catching accompaniment to the fluffier furnishings typically found in a child's nursery. You could utilize
white faux wood Polywood® shutters
in nurseries with bright or pastel colors. Natural wood shutters could be more suitable when your nursery has nature-inspired elements or you want to match existing wood trim. And whenever you change the style as your child gets older, your shutters will still be appealing with the area's new look.
Interior shutters utilize a unique layout that makes them ideal for children's bedrooms. In lieu of using curtains or cords for a child to yank on or get ensnared by, plantation shutters feature rigid panels with adjustable louvers integrated into a frame that encompasses the window. They also wipe off easily whenever they get those unavoidable marks from small hands.
Shutter louvers and panels give you many ways for directing exterior light and privacy in your child's space too. Swing open the panels for a sun-splashed playroom or secure them and turn the louvers up to welcome some sunlight and shift it toward the spot where your little one is playing. Then close the panels and slats to keep out almost all light for bedtime and naps.
Secured plantation shutters block drafts too. Air won't go through real wood and faux wood like it can through other window treatments. And our 5-star Ovation® and Polywood shutters utilize the finest craftsmanship to minimize spaces where air slips through. Polywood shutters also feature exclusive weather sealing that makes them the most energy-smart nursery window treatments in New York and ensures your room stays cozy for a soothing sleep.
Cellular Shades Offer Added Efficiency and Color To Nursery Windows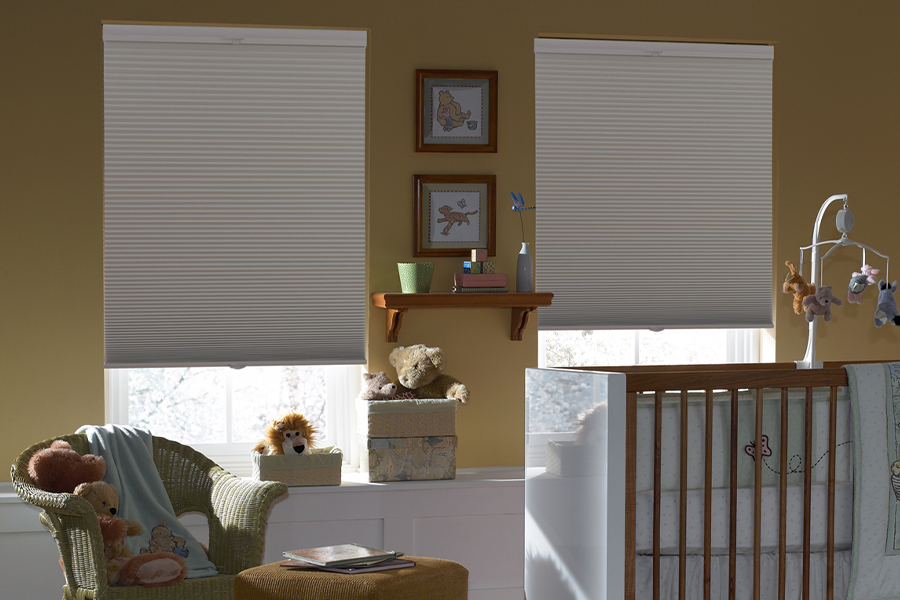 If you would rather a softer option for your nursery window treatments,
try cellular shades.
These window coverings are available in different patterns, materials, and colors for you to pick from. You'll also find different types like top-down/bottom-up shades that provide more adaptability with outside light and privacy or cord-free shades that your little one can't get tangled in.
The leading asset of cellular shades is their ability to save energy. Their structure creates little pockets that confine air entering through your windows before it infiltrates the nursery. They assist in keeping the area at a consistent temperature and utility costs within reason.
Looking For Additional Nursery Window Treatment Ideas In New York? Speak With Sunburst
No matter if you are looking for nursery window treatment ideas in New York or window treatments for another part of your interior, Sunburst Shutters New York has your solution. We carry a wide selection of window products that make your property more stylish and comfy. Call us at 631-246-3930 or fill out the following form to request a free on-site demonstration and find outstanding window treatments in New York.