Picking the Perfect Great Room Window Coverings in New York
Effective home design hinges on functionality. More than ever, homeowners in New York are adopting the design mantra that every piece of your home should not only look good, but also should serve a purpose too. And if it might serve multiple functions, even better! That's why the great room has become a more common fixture in homes, acting as a combined living room, dining room, family room, and more.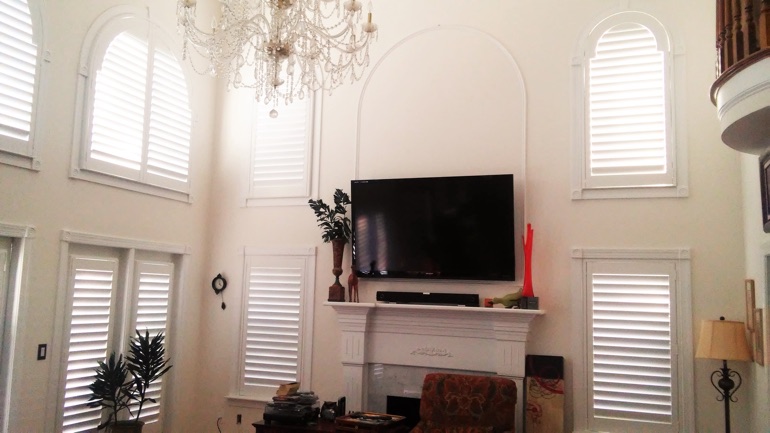 A useful, flexible space needs those same traits in its window treatments. So let's take a look at how to pick the optimal window covering for your great room, New York.
Great Room Window Treatment Priorities
Light Control - Great rooms tend to be the biggest room in your house, meaning they usually have the biggest windows. That means it's important to have control over the amount of light that comes through your windows so you have the ability to ignore the outdoor weather when setting your perfect mood.
Energy Efficiency - As with light, those big great room windows tend to let heat in and out fairly easily. A window covering that impedes energy loss can do a lot to maximizing your comfort and decreasing your energy bills.
Style - Since great rooms serve more than one function, it's frequently going to be the space guests see most often. Make a lasting impression with a stunning window covering that fulfills the functions mentioned above too.
Usability - Many great rooms are in multi-story homes with open concepts, which can mean tall windows that are a hassle to operate. The ability to easily and quickly operate your window coverings makes for a more functional space.
So now that we have in mind some "must-haves," which window treatments meet these criteria?
Great Room Plantation Shutters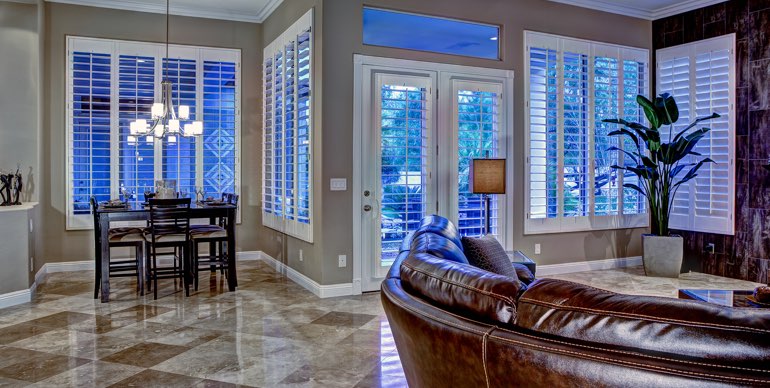 Check one, check two, check three, check four–plantation shutters pass our test with flying colors. Plantation shutters offer the most discerning light control, with the adjustable louvers which can be set fully open, completely closed, and every angle in between. Add to that some of the most effective thermal protection available to your windows, and you're left with an energy efficient window treatment which can reduce energy transfer by almost half.
And if those windows are tall or sit high near the ceiling, plantation shutters are still easy to use, with the use of an adjustment pole that stretches out and collapses in and gives you quick access to the tilt rod.
Finally, plantation shutters give you all this versatility with the looks to impress any houseguest. Few furnishings can offer the same touch of beauty to your house as shutters.
Other Great Room Window Options
Though plantation shutters are the top suggestion for filling all your great rooms' needs, there are a number of other options that can help out in some of those areas.
Cellular Shades - Cellular (also known as "honeycomb") shades can offer some dimming capabilities and decent insulating properties, all while giving you a wide array of colors to pick from to go with your space. If you opt for motorized shades, they can also be installed on out of reach windows for easy opening and closing.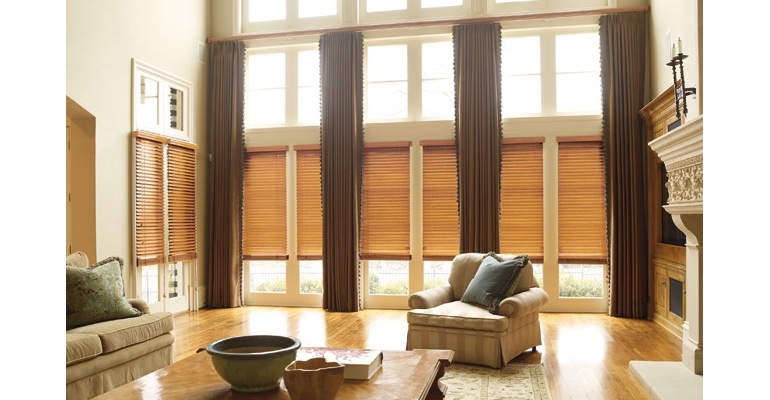 Drapes - Top-to-bottom draperies in a New York great room can be a dazzling enhancement to your interior design. Draperies are typically easy to draw and shut while giving you tight light control, depending on the material. Their heat-blocking ability is where they lack though, which means they're fairly weak in the energy efficiency category. For that reason, it's common to see drapes paired with Polywood shutters.
Greatness Awaits Your Great Room, New York
We want to help you make the most of the space in your great room, so let's talk. Call us at
631-246-3930
today to set up your complimentary home design consultation. We'll measure your windows, and show you all your options for beautiful great room window treatments.