Five Tips To Create The Ideal Media Room In New York
Today's home entertainment tech makes it simple to immerse your senses in TV, movies, and gaming in the comfort of your own media room. That's why families in New York continue to create home media rooms. You might be wondering: What is required to design an amazing home media room? From the right window treatments to soundproofing, check out these five tips for creating a media room in New York that all family members will enjoy.
#1 Control Outside Light With Plantation Shutters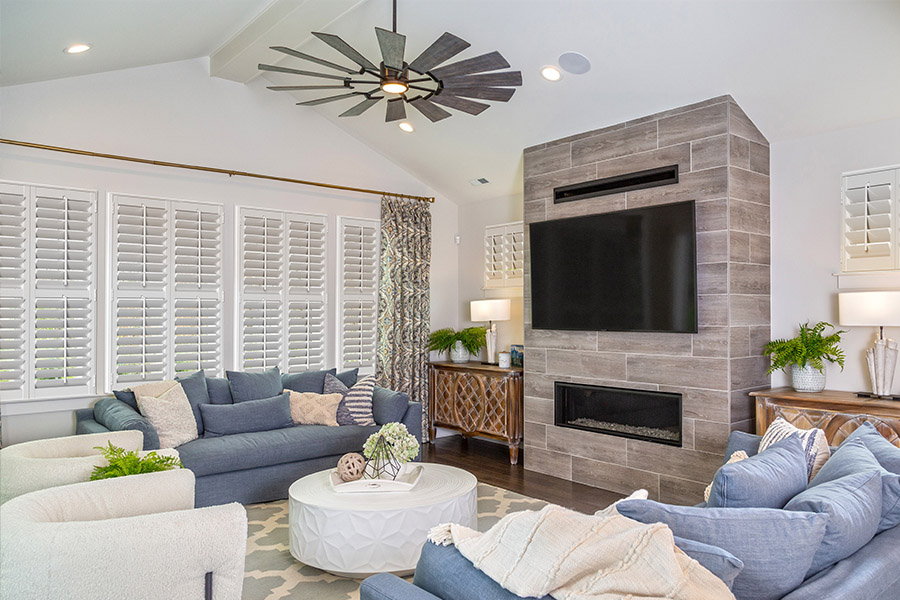 Nothing ruins your favorite show like sun glare on the TV. Dimmable lights help, but what what's best for exterior light? Choose
interior shutters for window treatments
in your media room in New York for superior light control. Louvered shutters have a frame that encloses your window to inhibit outside light. These durable products also incorporate panels on hinges with adjustable slats that slide together securely to give you near-total darkness. You may also manipulate the slats to a different angle to shift light away from screens or your face without having your room resemble a black hole.
When you install Polywood® shutters, you'll enjoy improved insulating ability too. These faux-wood shutters block UV rays and cooler breezes to keep your media room at a pleasant temperature level. They can prevent up to 30 degrees of heat transfer, lowering your energy costs.
#2 Improve Your Media Room's Acoustics With A Couple Straightforward Refurbishments
As soon as you conquer the lighting issue in your New York media room, focus on the acoustic environment. Drywall is sufficient for media rooms walls, but basement concrete deteriorates the clarity of sound. The easiest way to prevent echoing in your lower level media room is by inserting sound absorbing panels. In the event you have to perfect the sound quality in your media room, select DIY sound barrier or absorption solutions. You can then proceed with window treatments, like shutters, to block out noise from outside.
#3 Choose The Right Electronics
The proper electronics will deliver excellent acoustics too. First, select your surround sound setup. A great number of homeowners prefer wireless systems as you won't have to worry about concealing wires.
Don't forget about getting an amazing flat screen. Popular LED options are brighter, but 4k TVs typically have superior contrast ratios and viewing angles. You could also go with a projector and screen for a large media room. Whatever video option you choose, mount it further up your wall for the ultimate in viewing.
#4 Pick Out Comfy Furniture
You won't be able to take pleasure in the big game without a comfortable seat. If your goal is a theater-style experience, look for the appropriate chairs with reclining capability and built-in cup holders. If you plan on gaming, invest in the right number of gamer chairs. A spacious sectional is a good idea too. While you're at it, add some super-soft blankets and pillows to get ready for those nights of binge watching.
#5 Customize With A Fun Theme
You can decorate however you want when creating a media room in New York. Are you a fan of a specific movie franchise? Is your goal to give the impression that you're within a real theater? Framed movie posters, a vintage popcorn trolley, and vibrant colors will promote the intent of your media room.
If you want a more subtle look, customize using your preferred color palette. Warmer hues with wooden finishes and coordinating Ovation® shutters will allow your media room to feel cozy. You could also go light and airy with softer, neutral shades and Polywood shutters.
Consult With Sunburst About Window Treatments For Your Media Room In New York
The specialists at Sunburst Shutters New York are here to help you select the best window treatments for your media room. At your free on-location appointment, we reveal how samples look in your space before you make your decision. Schedule yours today by reaching out to 631-246-3930 or by completing the form on this page.