Finding Plantation Shutter Costs in New York
There's a lot of reasons why New York homeowners purchase plantation shutters. Their elegant looks, unmatched energy efficiency, and effective light control are just some of the benefits of picking shutters for your windows. But if you're planning a home design project, you may want to keep final costs in mind. "What's the price of shutters?" is a question we get a lot during a consult.
Because each New York home is unique and there are so many shutter options to choose from, it's difficult to give a definite answer to that question if a project isn't fully assessed, and if a shutter company offers a direct quote without asking about your specific needs, you might not end up with what you were looking for.
If you're aware of the factors that might affect the price of your shutter project, you can come up with a decent estimate of your shutter cost. Let's take a look at them.
What Can Impact Plantation Shutter Prices?
Since all Sunburst plantation shutters are custom-built for the windows in your home, the cost will differ depending on your unique needs. These are some of the details that can influence the price of your shutters.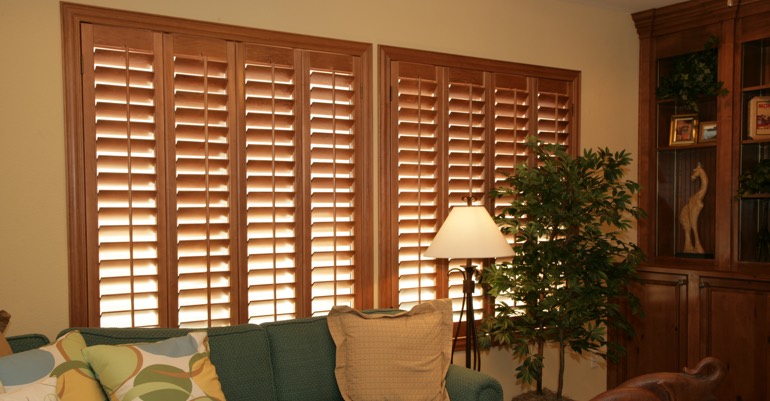 The Shutter Material
Our four varieties of plantation shutters all comprise separate materials. Polywood® plantation shutters and our newly launched Studio™ shutters are made from a faux-wood polymer, Ovation® wood shutters are constructed from natural hardwood, and Reclaimed Wood shutters are built from recycled wood.
Of our shutters, Studio shutters are usually the most budget-friendly, as the shutters are designed specifically to be the best marriage of value and performance. Polywood plantation shutters are also cost-effective, since they're 100% American-made, removing costs associated with amassing and shipping natural material.
The Shape and Size of Your Windows
Generally, plantation shutters are priced on a square-footage basis, so naturally bigger window shutters will come with a higher price tag than those on small windows. Knowing the approximate measurements of your windows may let you create an initial estimate, but don't concern yourself too much with measuring–our project manager will get an exact measurement for you during your free window design consultation.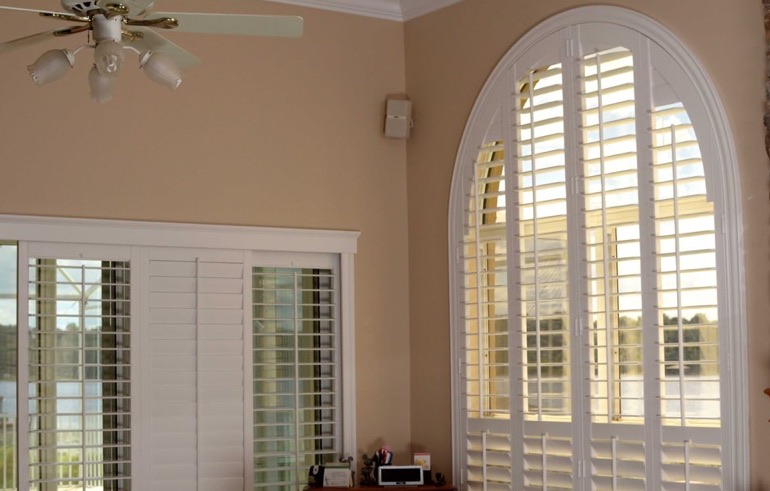 Windows with unique shapes may also add to the cost compared to standard square or rectangular windows, because they take extra time and work to match the exact specifications and angles of the window. Specialty windows might also need added work from the installer based on your existing frame and wall.
There exist a number of other variables that can affect your shutter price: the style of your frame, your preferred finish, or additional details like hidden tilt rods.
The point is that there is such a large number of variables that can influence the total that asking "what's the cost of shutters?" may be doing yourself a disservice by obscuring the whole picture.
Plantation Shutters - Benefits Worth The Investment
Relative to different window treatments available in New York, it's a fact that plantation shutters may require you to invest a little more. Though if you consider the numerous benefits that only plantation shutters offer, the investment is incredibly attractive.
Energy Efficiency - Only plantation shutters offer top-notch energy efficiency and insulating properties. Polywood shutters on their own are able to block up to half of all heat transfer from your windows, where other window coverings can't even approximate that degree of insulation. That means money saved on your home utility bills over time.
Lastingness - What's the typical lifespan of a drapery or a set of blinds? Two years, maybe more, if you're very lucky. Every time you have to replace one of those cheap window treatments is more money shelled out from your pocket and more time taken out of your life. But when you install plantation shutters on your windows, you know that you're choosing a window treatment that can last a lifetime. We even guarantee it.
Home Value - The typical homebuyer does a lot of research, and they're aware of the benefits of plantation shutters. That's why, just like sparkling new appliances or beautiful tile floors, plantation shutters can boost home resale value.
Appearance - Perhaps more than any reason listed above, plantation shutters are so popular because they just look better. No other window treatment can compare to classic aesthetic or the particular look and sleek elegance as shutters.
Let's Talk
If you're looking to take all the benefits of shutters home with you, Sunburst Shutters New York is ready to help. Our design pros can come to your home, explain all your choices and come up with an accurate estimate for your project that satisfies all of your wants and needs.
To get started, set up a free window design consultation by calling 631-246-3930 or filling out the form below. Together we can find the best solution for both your home and your budget.