8 Great Applications for Reclaimed Wood in Your New York Home
New York homeowners are passionate about reclaimed wood and the natural, unpretentious beauty it brings to their homes. It's proving to be a new way of upgrading weathered wood and showcasing your personal style. Reclaimed wood products are sure to please whether on a wall, your cabinets, or even your windows. Stumped about where reclaimed wood would make the best impression in your home? We have 8 sensational ideas for you – each and every one applied to wonderful effect in New York homes.
1.Outfit Your Windows with Reclaimed Wood
Believe it! This is a first: reclaimed wood – that décor alternative you've long wanted to incorporate in your home – is now, finally, available to you as a wonderfully stylish window treatment. Sunburst Shutters now offers a plantation shutter made from the best-quality reclaimed wood. In truth, Sunburst is the only company offering you reclaimed wood shutters in the New York area. We found the reclaimed wood you like and used it to engineer a louvered shutter that's not only beautiful but functional.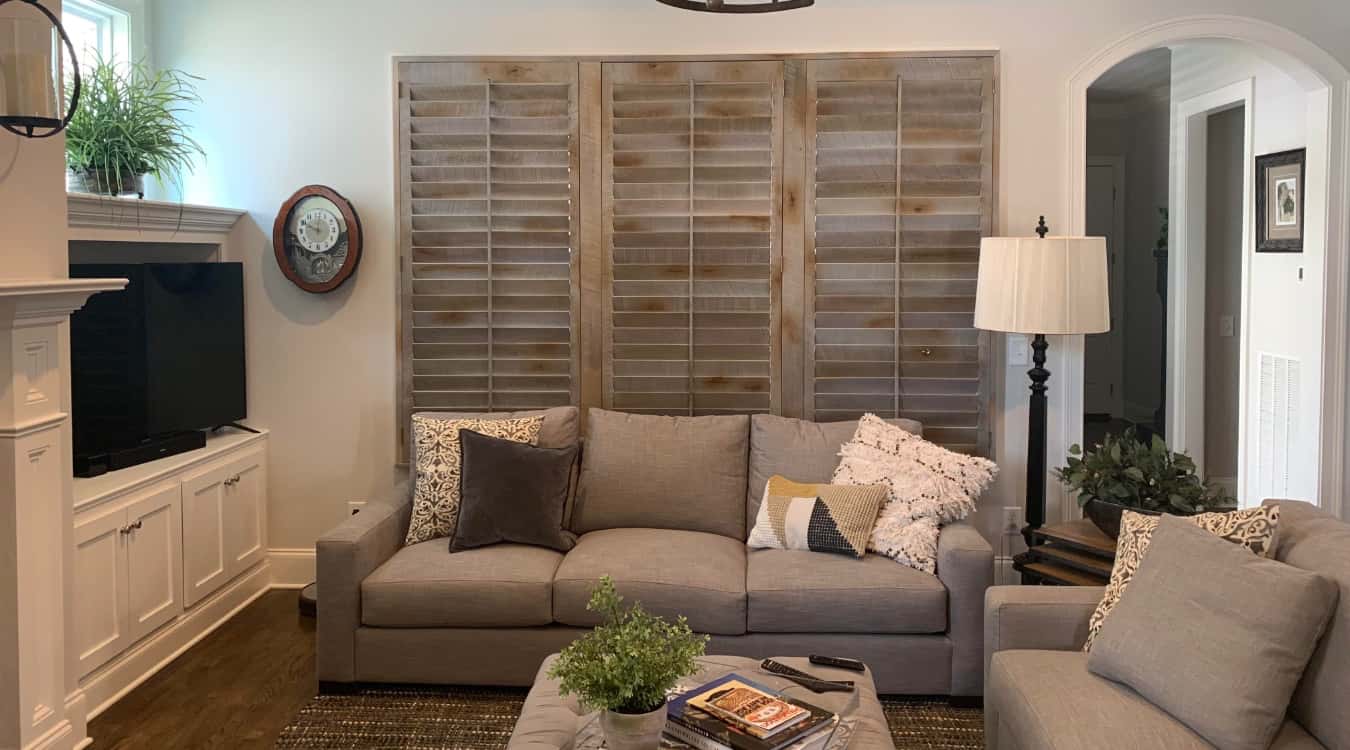 Reclaimed wood can make for a most unique window treatment. You've got a head start, for sure, when your reclaimed wood shutters are artistic accomplishments in their own right. And Sunburst makes sure they are. You'll soon realize there's as much to love about their operation as there is to love about the subtle, natural look they bring to any room décor. Tilt the louvers open to bring a little light inside. And tilt them closed to more fully appreciate the weathered look of reclaimed wood on your window. If we've piqued your interest, you'll want to look deeper into reclaimed wood for windows in New York
2. Redo Your Walls with Reclaimed Wood
Bring the outside in with a reclaimed wood wall. Reclaimed wood paneling adds subtle drama to a wall and lends a warm feel to the room. Regardless of whether you have a artwork, TV, bookcase, or fireplace you want highlighted in a room, a reclaimed wood wall will look incredible behind it and produce just the effect you you want.
3. Reclaimed Wood and Floors
Been thinking about redoing a floor in your house? All kinds of wood flooring can make a room feel warmer, but flooring of reclaimed wood has an unparalleled beauty perfected in the time – often decades – the wood has been left outside to endure the effects of nature. Whether you love the outdoors or simply love the look and feel of weathered wood, you'll fall head over heels in love with what a reclaimed wood floor can do to give your home a new lease on life.
4. Reclaimed Wood and Cabinets
Now's the time to give your kitchen cabinets a makeover with reclaimed wood. It's the natural way to make your kitchen the warm, inviting haven you've always thought it could be. Every panel of reclaimed wood tells a compelling story – of many years [[spent in an old building, perhaps, or as part of a barn or fence. And a piece of that narrative will survive in your reclaimed wood cabinets, crossing your mind every time you're around them.
5. Reclaimed Wood as a Table
A tabletop made of reclaimed wood can impart a ultra-current, assuredly unique ambiance to your dining room or home office. Unite the subtle, natural hues of reclaimed wood with your overall interior design to achieve a consistent, agreeable look that satisfies you – while it elicits praise from guests!
6. Your Bookcases Cry Out for Reclaimed Wood
However else we may view them, books make fantastic decorative pieces. Leather, vinyl, buckram, or paperbound books and those with colorful dust jackets look especially pleasing on a coffee or end table, on a bookshelf, or in a large bookcase. Their agreeable variety is both distinguished and brought together in bookcases of natural wood, too. And bookcases of reclaimed wood, with their natural colors, knots, holes, scratches, and other traits, become a singularly attention-getting, one-of-a-kind furnishing.
7. Reclaimed Wood as a Frame
The plain, natural look of reclaimed wood is just right for picture frames. It actually can enhance your favorite artwork and most cherished photos in a decidedly distinctive manner. It's worth noting, too, that frames of reclaimed wood can be assembled in a variety of styles, thus they'll harmonize with nearly any look you've established for your home.
8. Headboards of Reclaimed Wood
There's little that can upgrade the appearance of a bedroom like a skillfully designed and constructed headboard. These days, when renovating, people are just as inclined to attach a headboard to the wall behind their bed as they are to fix one directly to the bed itself. Whichever way works best for you, a headboard adapted from reclaimed wood planking can be undeniably breathtaking. It's natural coloring and effects of weathering make it work for a diverse number of styles, from antique to modern. With reclaimed wood, you can set your artistic talent free to create the headboard you've dreamed about!
Inspiration Comes Easy with Reclaimed Wood
We hope we've inspired you with these 8 ideas for using reclaimed wood. That said, we have a great many more ideas – ideas that blend well with the reclaimed wood shutters we alone make so readily available in New York. Our team will gladly show you samples of our shutters, answer your questions, and help you explore additional design ideas. Give us a call at 631-246-3930 to set up your free in-home design consultation at your convenience!